January 17, 2019 Expires On February 11, 2019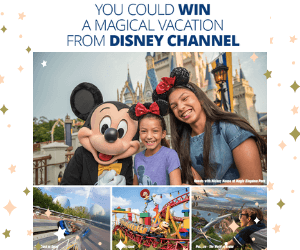 Have you ever wanted to visit the most magical place on earth? This is your chance! Disney Channel is giving away a free trip for 4 to Walt Disney World Resort in Orlando, Florida.

You could win a 5-nights stay at the Walt Disney World Resort with park tickets, airfare, a Disney card loaded with $600, and more!

To enter, simply fill in your contact information on the contest entry form. This contest is not open to residents of QC.

If you like this contest, check out another one we posted for the chance to win a trip to Universal Studios!

Want more travel contests? See all our exclusive travel offers here!