May 21, 2019 Expires On October 31, 2019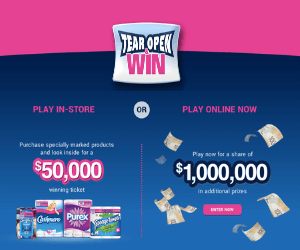 Enter the Scotties Tear Open & Win Contest for your chance to win major cash prizes!
There are 3 grand prizes of $50,000 cash! There are also secondary prizes of $1,000, $100, or $50. To enter, purchase specially marked products and look inside for 1 of 3 winning $50,000 tickets. You can also play online to win secondary prizes by entering the UPC code found on your product. To enter without making a purchase, print your full name, phone number, date of birth, and "complete mailing address on a plain white piece of paper and mail it (in an envelope with sufficient Canadian postage) along with: (i) a handwritten 50 word or more unique and original essay telling us what you would like to do if you are the winner of a cash prize; and (ii) a self-addressed pre-paid stamped envelope with sufficient return Canadian postage; to the following address: Spider Marketing Solutions- 103 Richmond Street East, Suite 201,Toronto, Ontario, M5C 1N9 (collectively, the "Request"). Upon receipt of a valid Request in accordance with these Rules, you will receive one (1) randomly selected Envelope and UPC Code (See Rule 8) per unique and original Request received per envelope with sufficient Canadian postage."
Want to win more prizes? Check out our Contests Page.