April 11, 2019 Expires On June 11, 2019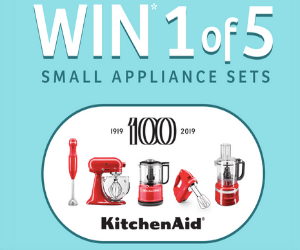 Lactantia is giving out 5 free KitchenAid prize packs full of small appliances.
There are a few different ways to enter. The easiest way is to enter the PIN located on the inside of the specially-marked packs of Lactantia Butter products. You can also enter without making a purchase by sending a postage paid self-addressed envelope with an original essay of 50 words or more answering the question: "Why is Lactantia Butter my favourite brand for baking?" to: "Bake With Lactantia" Contest, PIN Code Request, PO Box 38100, 550 Eglinton Ave West, Toronto On M5N 1B0.
Don't want to wait until the contest closes on June 11th? Get your own KitchenAid hand mixer now!
Want to win more prizes? Check out our Contests Page.