February 2, 2019 Expires On May 31, 2019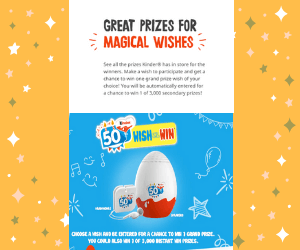 Kinder Surprise is celebrating their 50th anniversary with an awesome contest. Enter for your chance to win 1 of 6 grand prize adventures. You can choose from adventures in Australia, Germany, the Bahamas, Mexico, San Diego, and the Kennedy Space Center. There are also 3,000 instant win prizes including 70 Kinder Surprise Bluetooth Speakers and 2,300 Kinder Surprise earbuds.
To enter, purchase a specially-marked Kinder Surprise chocolates and input the redemption code on the contest page. to learn how to enter without making a purchase, click here. Good luck!
Want to win more prizes? Check out our Contests Page.