January 15, 2019 Expires On December 31, 2019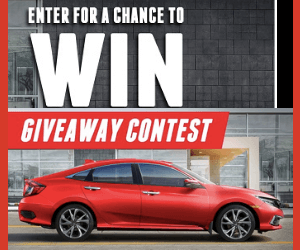 Wow - here is another great contest for the chance to win a free car! Honda is giving away 1 free 2019 Honda Civic Sedan Touring and you could be the lucky winner.

To enter, simply fill in your contact information on the entry form and select a Honda vehicle that you would be interested in.

If you like this contest, be sure to check out another one we posted for the chance to win a Chrysler vehicle and another for the chance to win a free Chevrolet! Enter all 3 to increase your odds of winning a free car.

Good luck!