April 1, 2023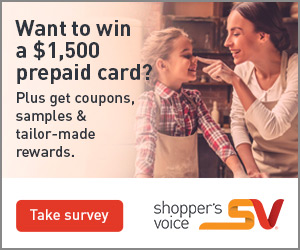 Attention all shopaholics out there! Are you ready to experience the ultimate thrill of winning big with the Shopper's Voice survey sweepstakes in Canada? Get excited because this is your chance to win a massive $1,500 just by sharing your thoughts and feedback on your favorite stores and brands!
Picture yourself holding that big fat check of $1,500 in your hand, and let the adrenaline rush through your veins as you think of all the possibilities. You could pamper yourself with a luxurious spa treatment, update your wardrobe with the latest trends, or even go on a wild shopping spree with your squad!
But that's not all – your opinion matters! By completing the survey, you'll have the power to shape the future of your shopping experience and make a real difference. So whether you're a tech geek or a fashionista, this is your chance to have your voice heard!
So buckle up, grab your phone or laptop, and head over to the Shopper's Voice website to start the survey. Don't miss out on this thrilling opportunity to win $1,500 and be the ultimate shopping champion!