Where To Get Free Wi-Fi in Canada
February 3, 2015, BY Emma Craig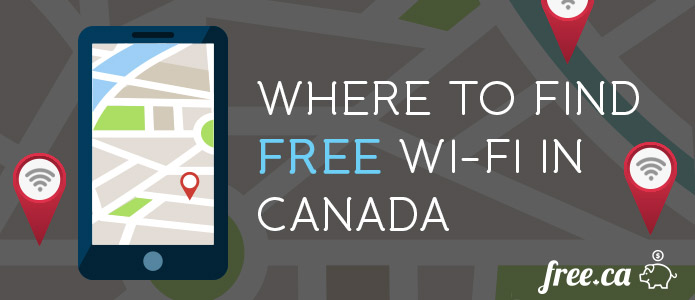 Save on your data plan by knowing where to go to get free Wi-Fi. Whether you are venturing on a road trip across the country or you are just going about your daily errands, there are plenty of places to connect free of charge. Plan a business meeting, gather with a couple of friends, or just surf the web by connecting your phone, tablet, or laptop to free Wi-Fi hot spots provided by some of your favourite restaurants and travel locations.
Free Wi-Fi at Tim Hortons
Grab your coffee and stay for a while. Log on to Tim Hortons free Wi-Fi and be connected to the online world. Whether you are driving from one city to another or you just wanted to stop for a break in your day, this is a great chance to not miss a beat.
Free Wi-Fi at Starbucks Coffee Shops
Enjoy your favourite Starbucks drink and stay in touch with what's going on online. From working on an important project or meeting a friend for coffee, count on free Wi-Fi at Starbucks to keep you connected.
Free Wi-Fi at McDonald's Canada
Your McDonald's meal now comes with complimentary Wi-Fi. Get some work done over your lunch, shop online or log onto Facebook with free unlimited Wi-Fi. Enjoy a cup of coffee or your favourite burger and stay as long as you need.
Free Wi-Fi in-store at Chapters Indigo
Enhance your experience when shopping at Chapters Indigo by connecting to their complimentary Wi-Fi service. Read, browse the web and shop online exclusives through their free Wi-Fi service. Don't stop the search with books in-store.
Free Wi-Fi on VIA Rail Trains and Station Lounges
Travelling by train no longer means you are disconnected with the world you are zooming past. VIA Rail now offers complimentary Wi-Fi service on board most of its trains, in its Business station lounges and in select stations between Quebec City and Windsor.
Free Wi-Fi at GO Stations and Bus Terminals
Your morning commute will have you on connected and on The Go at stations across the GTA. Whether you are checking your email about a morning meeting or connecting through social media to meet a friend at Union Station, you can be online when you ride with GO.
Free Wi-Fi at Second Cup
Indulge your senses at Second Cup with their collection of rich beverages that will satisfy any craving. Log on at select locations and read your favourite news sites, social media or surf the web and enjoy this time out.
Free Wi-Fi at Some Boston Pizza Locations
Whether it's the pizza, pasta or friendly service that draws you in, Boston Pizza Franchises gives you a chance to connect with more than just your dinner partners. Lock on to their free Wi-Fi at selection restaurants.
Free Wi-Fi at Select David's Tea Locations
If you're pining for a cup of delicious tea, head over to your local David's tea and fill up on your favourite flavours and connect to the web for free at select locations.